Integrated graphics allow for incredible visual quality, faster graphic performance and flexible display options without the need for a separate graphics card.
Intel® Trusted Execution Technology for safer computing is a versatile set of hardware extensions to Intel® processors and chipsets that enhance the digital office platform with security capabilities such as measured launch and protected execution. It enables an environment where applications can run within their own space, protected from all other software on the system.
Intel® Virtualization Technology (Intel® VT)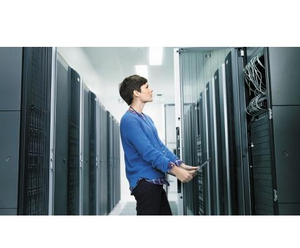 Simplify Virtualization and Reduce Overheads
Intel® Virtualization Technology (Intel® VT) helps make virtualization practical by eliminating performance overheads, reducing complexity, and improving security with hardware assistance. Virtualization allows multiple workloads to share a common set of resources so that a variety of workloads can co-locate while maintaining full isolation from each other.
Specs
Processor:
Processor manufacturer:
Intel
Processor socket:
LGA 1356 (Socket B2)
Compatible processor series:
Intel® Xeon® E5 Family
Number of processors supported:
2
Processor number of cores supported:
4,6,8
Intel Xeon series:
E5-2400
Supported QPI:
6.4,7.2,8 GT/s
Number of QPI links:
1
Thermal power:
95 W
Thermal Design Power (TDP):
95 W
Lithography:
32 nm
CPU configuration (max):
2
Maximum number of PCI Express lanes:
24
ECC supported by processor:
✓
Maximum internal memory supported by processor:
128 GB
Memory bandwidth supported by processor (max):
614.4 GB/s
Memory:
Supported memory types:
DDR3-SDRAM
Number of DIMM slots:
8
Supported memory clock speeds:
1066,1333,1600 MHz
Maximum internal memory:
128 GB
Memory channels:
Hexa-channel
ECC:
✓
Supported RDIMM clock speeds:
1066,1333,1600 MHz
Supported UDIMM clock speeds:
1066,1333 MHz
Maximum RDIMM memory:
128 GB
Maximum UDIMM memory:
128 GB
Maximum LRDIMM memory:
128 GB
Memory bandwidth (max):
614.4 GB/s
Storage controllers:
HDD interface:
Serial ATA, Serial ATA II
RAID levels:
0,1,5,10
Graphics:
On-board graphics adapter:
✓
Discrete graphics support:
✓
Discrete graphics adapter model:
Supported
Internal I/O:
USB 2.0 connectors:
2
Number of SATA connectors:
6
Total number of SATA connectors:
6
Rear panel I/O ports:
USB 2.0 ports quantity:
4
VGA (D-Sub) ports quantity:
1
Ethernet LAN (RJ-45) ports:
2
Serial ports quantity:
2
Network:
Ethernet LAN:
✓
Wi-Fi:
✗
Ethernet interface type:
Fast Ethernet, Gigabit Ethernet
Features:
Component for:
Server
Motherboard form factor:
SSI CEB
Motherboard chipset:
Intel® C602
Rack-Friendly board:
✓
Physical Address Extension (PAE):
✓
Physical Address Extension (PAE):
46 bit
Trusted Platform Module (TPM):
✓
Trusted Platform Module (TPM) version:
1.2
InfiniBand:
✗
Embedded USB (eUSB) SSD option:
✓
Chassis type:
Rack (4U)
Market segment:
Server
Energy Star certified:
✓
Harmonized System (HS) code:
8473301180
Expansion slots:
PCI Express x8 (Gen 3.x) slots:
1
PCI Express x16 (Gen 3.x) slots:
1
PCI Express x4 slots:
2
PCI Express x4 (Gen 2.x) slots:
1
PCI Express x4 (Gen 3.x) slots:
1
PCI Express x8 slots:
1
PCI Express x16 slots:
1
PCI Express slots version:
3.0
PCI slots:
1
PCI Express CEM revision:
3.0
Processor special features:
Intel® Anti-Theft Technology (Intel® AT):
✗
Intel® Clear Video HD Technology (Intel® CVT HD):
✗
Intel Dual Display Capable Technology:
✗
Intel Fast Memory Access:
✓
Intel Flex Memory Access:
✓
Intel I/O Acceleration Technology:
✓
Intel Advanced Management Technology:
✓
Intel® Active Management Technology (Intel® AMT):
✗
Intel® AES New Instructions (Intel® AES-NI):
✓
Intel AC'97 technology:
✗
Intel Client Initiated Remote Access (CIRA) technology:
✗
Intel Intelligent Power Node Manager:
✓
Intel® Virtualization Technology (Intel® VT):
VT-d
Intel Trusted Execution Technology:
✓
Intel Remote PC Assist Technology (RPAT):
✗
Intel Quiet System Technology (QST):
✗
Intel Quick Resume Technology:
✗
Intel Server Management Software:
✓
Intel Remote Management Module Support:
✓
Intel® High Definition Audio (Intel® HD Audio):
✗
Intel® Matrix Storage Technology (Intel® MST):
✗
Integrated BMC with IPMI:
✓
Intel Rapid Storage Technology:
✗
Intel Quiet Thermal Technology:
✓
Intel Efficient Power Technology:
✓
Intel Build Assurance Technology:
✓
Intel Server Customization Technology:
✓
Intel Rapid Storage Technology enterprise:
✓
Intel Clear Video Technology:
✗
Intel Virtualization Technology for Directed I/O (VT-d):
✓
Intel® vPro™ Platform Eligibility:
✗
Intel® Remote Wake Technology (Intel® RWT):
✗
Integrated systems available:
✓
Embedded options available:
✗
Low halogen options available:
✗
Weight & dimensions:
Width:
304.8 mm
Depth:
266.7 mm
Packaging content:
User guide:
✓
Packaging content:
(1) Intel Server Board S2400SC2, (1) I/O Shield, (4) SATA cables, (1) DVD contains Intel Multi-Server Manager Software and Intel Deployment Assistant, (1) Quick Start User Guide, and (1) Attention document. Note: the OEM 10 Pack does not ship with included items.
Other features:
On-site support:
✓
Quantity:
1
Motherboard ARK ID:
61037
Commodity Classification Automated Tracking System (CCATS):
G145323
Export Control Classification Number (ECCN):
5A992C
Halogen-free:
✗
Product type:
Server/Workstation Board
USB ports quantity:
4
USB version:
2.0
Form factor:
SSI CEB 12" x 10.5"
Graphics:
Graphics output:
D-sub
Features:
Intel Node Manager:
✓
Product family:
Dual-socket server board
Product series:
Intel S2400SC
Product codename:
Swiftcurrent Pass
FireWire support:
✗
Launch date:
Q2'12
Status:
Discontinued
Maximum memory:
128 GB
Supported RAID configuration:
Software RAID ESRT2 (0,1,5,10) and RSTe (0,1,5,10)
Last change:
63903513
Additional information URL:
http://www.intel.com/content/www/us/en/motherboards/server-motherboards/server-board-s2400sc2.html
End of life date announce:
Friday, April 17, 2015
Expected discontinuance date:
Q2'15
Extended warranty available for purchase (select countries):
✓
Last order date:
Thursday, October 15, 2015
Last receipt attributes date:
Monday, February 15, 2016
Target market:
Storage
Images Type Map: