Accelerate Your Experience
This game-changing technology intelligently accelerates new 7th Gen Intel® Core™ processor-based systems while affordably maintaining mega-storage capacity, to deliver a responsive computer experience with short boot times, fast application launches, extraordinary gaming, and responsive browsing.
Intelligent System Acceleration
Optimize your computer responsiveness with up to 2x1 faster boot, 5x2 faster web browser launch, and 67% faster3 game launch. Intel® Optane™ memory is a smart and adaptable system accelerator that adjusts to your computing tasks making everything you do faster, smoother, easier. Its intelligent software automatically learns your computing behaviors to accelerate frequent tasks and customize your computer experience.
Wait Less, Do More
Intel® Optane™ memory in your PC delivers amazing responsiveness so you can start up quickly, search and find files up to 4x faster4 and save large files with virtually no lag. Experience up to 5.8 faster5 email application launch, and rev up your gameplay with an up to 65% improvement in loading the next level3.
Speed up Your Storage
A high-capacity storage device coupled with Intel® Optane™ memory offers the best of both worlds: high speed acceleration and affordable, large storage capacity.
Intel® Rapid Start Technology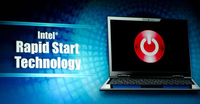 Get Up and Running in Seconds
Stop waiting for your PC to wake up, and get a computing experience that is instantly on and ready to go with Intel® Rapid Start Technology. This technology saves a snapshot of your activity on the SSD, preparing the system with previously saved active memory pages so that you can resume your work, Internet activity, or paused movie right where you left off.
Specs
Features:
SSD form factor:
M.2
SSD capacity:
16 GB
Interface:
PCI Express 3.0
NVMe:
✓
Component for:
PC
Read speed:
900 MB/s
Write speed:
145 MB/s
Random read (8KB):
190000 IOPS
Random write (8KB):
35000 IOPS
Random read (100% span):
190000 IOPS
Random write (100% span):
35000 IOPS
Read latency:
7 µs
Write latency:
18 µs
End-to-End Data Protection:
✓
Enhanced Power Loss Data Protection technology:
✗
Mean time between failures (MTBF):
1600000 h
SSD ARK ID:
97544
Power:
Power consumption (read):
3.5 W
Power consumption (idle):
1 W
Brand-specific features:
Intel® Optane™:
✓
Intel® Rapid Start Technology:
✓
Operational conditions:
Operating temperature (T-T):
0 - 70 °C
Operating vibration:
2.17 G
Non-operating vibration:
3.13 G
Operating shock:
1500 G
Weight & dimensions:
Width:
80 mm
Other features:
Product colour:
Black, Blue