Boost PC Performance
Replace your HDD with an Intel® SSD 545s Series and accelerate your computer performance immediately. With performance faster than an HDD, you'll see quicker boot-ups, more responsive applications, and faster file transfers for less waiting and more doing.
Reliable Quality
Intel is a leader in quality and reliability. Every Intel® SSD is subject to rigorous testing standards above and beyond the standard quality requirements. The Intel SSD 545s Series supports AES 256-bit self-encryption to protect your data and is backed by a 5-year limited warranty.
Easy Upgrade or Install
The standard 2.5-inch form factor fits easily into most PCs. With Intel® Data Migration Software, copying data from your old drive to the SSD is simple.
Industry Leading Innovation
The Intel SSD 545s Series features 64-layer Intel® 3D NAND technology that enables higher drive capacities and delivers a cost-effective replacement for traditional HDDs.
Intel® Rapid Start Technology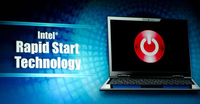 Get Up and Running in Seconds
Stop waiting for your PC to wake up, and get a computing experience that is instantly on and ready to go with Intel® Rapid Start Technology. This technology saves a snapshot of your activity on the SSD, preparing the system with previously saved active memory pages so that you can resume your work, Internet activity, or paused movie right where you left off.
Specs
Features:
SSD form factor:
M.2
SSD capacity:
128 GB
Interface:
Serial ATA III
Memory type:
3D TLC
Component for:
PC/notebook
Hardware encryption:
✓
Read speed:
550 MB/s
Write speed:
440 MB/s
NAND flash type:
TLC (Triple Level Cell)
Security algorithms:
256-bit AES
Data transfer rate:
6 Gbit/s
Read latency:
50 µs
Write latency:
60 µs
End-to-End Data Protection:
✓
Enhanced Power Loss Data Protection technology:
✗
SSD temperature monitoring:
✗
Uncorrectable Bit Error Rate (UBER):
<1 sector per 10^15 bits read
Mean time between failures (MTBF):
1600000 h
Windows operating systems supported:
Windows 10,Windows 10 Education,Windows 10 Education x64,Windows 10 Enterprise,Windows 10 Enterprise x64,Windows 10 Home,Windows 10 Home x64,Windows 10 IOT Core,Windows 10 Pro,Windows 10 Pro x64,Windows 7,Windows 7 Enterprise,Windows 7 Enterprise x64,Windows 7 Home Basic,Windows 7 Home Basic x64,Windows 7 Home Premium,Windows 7 Home Premium x64,Windows 7 Professional,Windows 7 Professional x64,Windows 7 Starter,Windows 7 Starter x64,Windows 7 Ultimate,Windows 7 Ultimate x64,Windows 8.1,Windows 8.1 Enterprise,Windows 8.1 Enterprise x64,Windows 8.1 Pro,Windows 8.1 Pro x64,Windows 8.1 x64
TBW rating:
72
Market segment:
MBL
SSD usage tag:
Consumer
SSD ARK ID:
125027
Harmonized System (HS) code:
8471706000
RoHS compliance:
✓
Certification:
UL, CE, RCM, BSMI, KCC, WHCK / WHLK, VCCI
Power:
Power consumption (average):
4.5 W
Power consumption (idle):
0.05 W
Brand-specific features:
Intel High Endurance Technology (HET):
✗
Intel® Rapid Start Technology:
✓
Intel® Remote Secure Erase:
✗
Intel® Smart Response Technology:
✓
Intel Smart Response Technology version:
1.00
Operational conditions:
Operating temperature (T-T):
0 - 70 °C
Storage temperature (T-T):
-55 - 95 °C
Maximum operating temperature:
70 °C
Operating vibration:
2.17 G
Non-operating vibration:
3.13 G
Operating shock:
1500 G
Non-operating shock:
1500 G
Weight & dimensions:
Width:
22 mm
Depth:
80 mm
Weight:
5 g
Other features:
Product colour:
Black,Green
Features:
Temperature monitoring and logging:
✗
Operational conditions:
Operating / non-operating shock:
1500 G (Max) at 0.5 msec
Other features:
Drive capacity:
128 GB
Launch date:
Q4'17
Product brief URL:
https://www.intel.com/content/www/us/en/support/articles/000005884/memory-and-storage.html
Random write (8GB span):
80000 IOPS
SSD endurance rating:
72 TBW
SSD hardware encryption:
AES 256 bit
SSD power consumption (active):
4.5W
SSD power consumption (idle):
40mW
SSD shock:
1500 G (Max) at 0.5 msec
Sequential reading:
550 MB/s
Sequential writing speed:
440 MB/s
Status:
Launched
Random read (8GB span):
70000 IOPS
Last change:
63903513
Intel Rapid Start Technology version:
1.00
Remote Secure Erase (RSE) technology version:
0.00
Product family:
Consumer SSD
Product series:
Intel® SSD 545s Series
Product codename:
Liberty Harbor